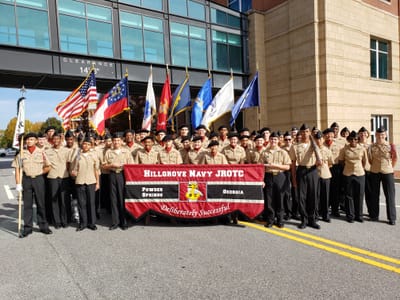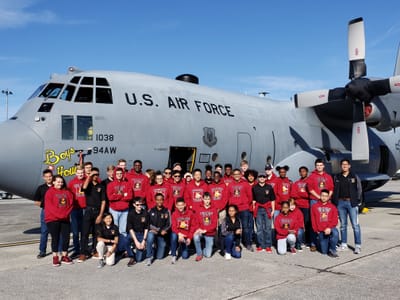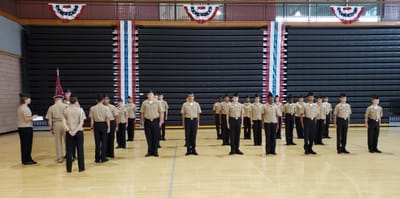 The Hillgrove Navy Junior Reserve Officer Training Corps (NJROTC) was established in 2009. We are part of the Area-12 region with its headquarters located in Jacksonville, FL. Although we are one of the youngest units in the nation we have quickly excelled to the top of the charts to include holding Orienteering and Academic State Championship titles and placing top 5 or better in numerous National Championships. We are also designated a "DISTINGUISHED UNIT WITH ACADEMIC HONORS" for seven years running; an honor reserved for the top performing NJROTC units and are currently ranked #2 of the 60 schools within Area-12 and #1 in the state of Georgia. Our annual cadet enrollment is approximately 110 cadets.

There are costs, although minimal, associated with field trips and competition teams, but all required uniforms are supplied at no cost to the cadet. NJROTC is an elective class and part of the cadet's daily school schedule. A cadet has no military obligation resulting from participating in the NJROTC program; however, if a cadet chooses to pursue a career in the military they can receive up to a 2-step enlisted pay grade bump for the time they spent in the NJROTC program. Qualified cadets are also eligible to apply for ROTC scholarships including scholarships only available to NJROTC cadets.

NJROTC/PE/Health Credit: The Cobb County School District allows 3 credits in NJROTC to satisfy the PE/Health high school graduation requirement beginning with students that enter, as 9th grade (freshman), the 2017-2018 school year.
Find graduation rule here (page 6): http://www.cobbk12.org/centraloffice/adminrules/i/IHF-R.pdf

The NJROTC program was authorized by the JROTC Vitaization Act of 1964. The mission of the NJROTC program is "to instill in students the value of citizenship, service to the United States, personal responsibility and a sense of accomplishment." The NJROTC curriculum emphasizes citizenship and leadership development. Classroom instruction is augmented throughout the year by community service activities, academic, drill, marksmanship and orienteering competitions, visits to industry and college campuses and numerous other activities. We follow and instill the Navy's core values of Honor, Courage and Commitment and feel that active cadets will see the greatest benefits in personal growth, leadership development, and the opportunity to achieve their full potential.