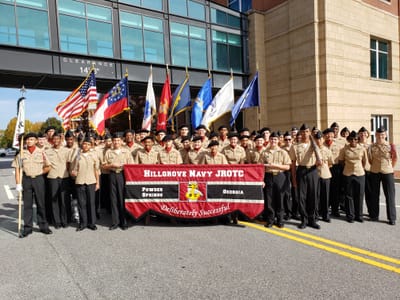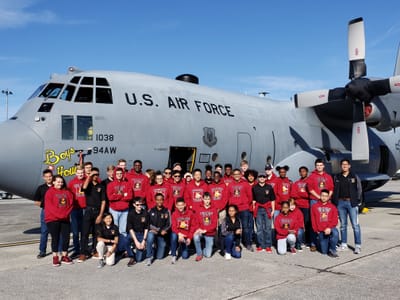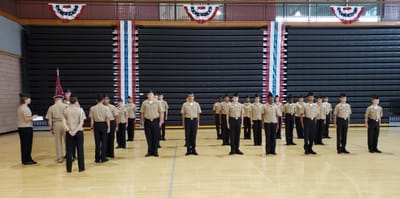 The Hillgrove Navy Junior Reserve Officer Training Corps (NJROTC) was established in 2009 and commissioned in 2010. We are part of NJROTC Area-12, with our headquarters and Area Manager located in Jacksonville, FL. As one of the youngest units in the nation we quickly established ourselves as one of the top units, holding numerous Orienteering and Academic State Championship titles. We are also the current back-to-back-to-back (3-peat) Navy National Orienteering Champions. We have also been designated a "DISTINGUISHED UNIT WITH ACADEMIC HONORS" for nine consecutive years (2015-2023); an honor reserved for the top performing NJROTC units nationally. We are the #1 NJROTC in the state of Georgia. Our annual cadet enrollment is approximately 100 cadets.

Navy Junior Reserve Officers' Training Corps is a citizenship development program. The NJROTC program was authorized by the JROTC Vitalization Act of 1964. The mission of the NJROTC program is "to instill in students the value of citizenship, service to the United States, personal responsibility and a sense of accomplishment." The NJROTC curriculum emphasizes citizenship and leadership development. Classroom instruction is augmented throughout the year by community service activities, academic, drill, marksmanship, orienteering, and drone competitions, visits to industry and college campuses, and numerous other activities and trips. We follow and instill the Navy's core values of Honor, Courage and Commitment and feel that active cadets will see the greatest benefits in personal growth, leadership development, and the opportunity to achieve their full potential. Quite simply, our goals are teach and actively engage our cadets in academics, citizenship, service, and competition, all while preparing them to be the best versions of themselves as they prepare for life after high school, wherever that may be.

There are costs, although minimal, associated with field trips and competition teams within our program, however, all required uniforms and learning materials are supplied at no cost to the cadet. NJROTC is an elective class (CTAE) and part of the cadet's daily school schedule. NJROTC is NOT a military recruiting program and cadets have no military obligation resulting from participating in the NJROTC program. They are required to maintain grooming standards (i.e. haircuts for gentleman, etc.) and typically wear their NJROTC uniform one day a week. Should a cadet desire to pursue a military career, they can receive up to a 2-step enlisted pay increase (approx. $4K/yr) or access to military scholarships if interested in pursuing a commission as a military officer. Qualified cadets are eligible to apply for ROTC scholarships or appointments to military academies, including scholarships only available to NJROTC cadets. Here at Hillgrove our mission is simple, "Better prepare our students for whatever their chosen career path is after high school."

NJROTC/PE/Health Credit: The Cobb County School District allows 3 credits in NJROTC to satisfy the Health/BPE high school graduation requirement. Students will earn four credits for three NJROTC classes (3 NJROTC credits, plus Health/BPE). In many cases, this allows the schedule space needed, particularly for freshman, to be able to participate in the NJROTC program. While it is desired to have cadets enrolled both semesters each year, in some circumstances, based on academic requirements, cadets may participate fully in the program by being enrolled in only one semester.

Please reach out to program instructors if you have any questions relating to our program. We are all here for the same purpose, student success. We look forward to you becoming a part of our team!